BEST LC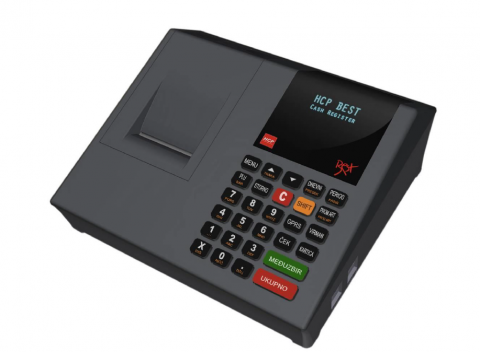 HCP Best LC is a cash register most desirable by a wide variety of users.
Integrated GPRS module enables remote data gathering and administration, data base updating, sending data to a remote server, money transfer, etc…
The capacity of the integrated battery allows up to 300 receipts in the stand alone regime. There is a possibility of improving the capacity of the battery.
Thermal printer:
Printer type: Thermal printer – single/double station
Paper rolls: -1x56mm, ∅ 45mm, -2x28mm, ∅ 40mm
Printing speed: Up to 60mms/s
Characters per line: 18 characters per line
Resolution: 203dpi
Paper sensor: 2
Printer lifetime: 50km
Major features:
PLUs: 12000
VAT rates: 9
Departments: 12
Journal: Journal tape/microSD
Payment methods: cash, cheque, card
Operators/cashiers: 10 with user names and password
Fiscal memory: Yes
Reports: Up to 1950 daily reports
Other functions:
- Remote server administration
- Reports by PLUs, cashiers and departments
- Up to 34 characters in article name
- Max value per receipt 11+2 digits
- Max price 21,000,000.00
- 200 items per receipt
- Support standard barcode types (EAN8, EAN13)
General Features:
CPU: 32-bit, ARM9
Operator display: 2x16 alphanumeric LCD with backlight
Customer display: 2x16 alphanumeric LCD with backlight
Keyboard: 28 keys
Cash drawer connector: yes
GPRS terminal: Dual/quad band module integrated
Communication Interfaces: 2xRS232, COM1 – PC port, COM2 – Barcode port
Power supply: 9V/2A DC power adapter, Integrated Li-ion battery 7.4V/2200mAh
Dimensions (WxDxH): 235x220x100mm